In short, these are just international surveillance alliances representing various countries around the world. These surveillance alliances work together to collect and share mass surveillance data. In other words, they are essentially acting as one global-surveillance entity to spy on you and record your activities.
In this guide we'll explain the different "X" eyes surveillance alliances and why this topic is important when choosing a VPN service or any other privacy tool.
Five Eyes
The Five Eyes (FVEY) surveillance alliance includes:
Australia
Canada
New Zealand
United Kingdom
United States
The history of this alliance goes all the way back to WWII and the UKUSA Agreement. This agreement officially formalized a partnership between the United Kingdom and United States for sharing intelligence. The partnership continued throughout the Cold War and has only strengthened following the "War on Terror" and subsequent "terrorist" events.
Edward Snowden brought renewed focus to the Five Eyes surveillance alliance in 2013 when he exposed the surveillance activities of the US government and its allies.
According to Wikipedia, these are the different "5 Eyes" surveillance agencies working together to collect and record your activities: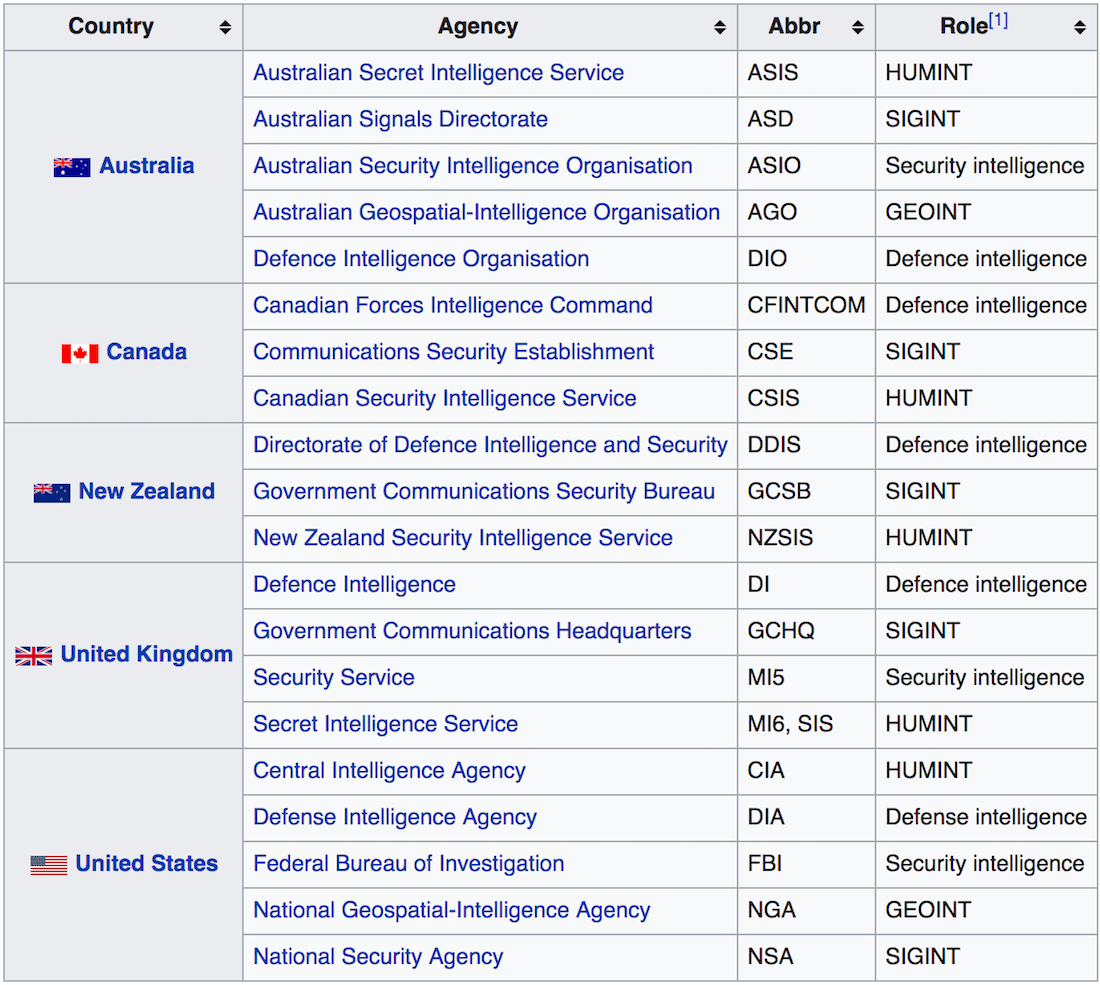 It is no surprise that some of the Five Eyes countries listed above are also the worst abusers of online privacy:
United Kingdom – Since the passage of the Investigatory Powers Act in 2016, internet service providers and telecoms have been recording browsing history, connection times, and text messages. The data is stored for two years and is available to UK government agencies and their partners without any warrant necessary.
United States – The US government has been implementing Orwellian mass surveillance collection methods with the help of large telecoms and internet service providers (see the PRISM program). Recently internet service providers have been given the legal authority to record user activity and sell this to third parties (and you can't opt out).
Australia – Australia has also implemented sweeping data retention laws similar to the United Kingdom.
Broad authority – The other drawback with these Five Eyes countries is that they have tremendous authority to force companies to hand over data. This is particularly easy for US government agencies, which can also demand non-disclosure through gag orders.
Nine Eyes
The Nine Eyes countries include all of the previous Five Eyes countries plus:
Denmark
France
Netherlands
Norway
The existence of the Nine Eyes alliance is referenced in Wikipedia and other sources online. It is just an extension of the Five Eyes alliance with similar cooperation to collect and share mass surveillance data.
14 Eyes
The 14 Eyes surveillance countries include all of the previous Nine Eyes countries plus:
Germany
Belgium
Italy
Sweden
Spain
As before, the original surveillance agreement was extended to these other countries. The official name of this group of countries is referred to as SIGINT Seniors Europe (SSEUR).
Additional surveillance partners
+ Israel – Israel must be included when discussing the Five Eyes surveillance partners. As many sources point out, it is one of the closest partners with the US government and the National Security Agency (NSA). Here are a few examples documenting this:
+ Singapore, South Korea, and Japan – Singapore and South Korea are also reported to be close partners in the Five Eyes alliance. Japan also appears to be a close surveillance partner with the United States (source; source; source).
VPN services located in 14 Eyes countries and territories
Jurisdiction is a big consideration for most people when selecting a trustworthy VPN service. Therefore we will briefly summarize the VPN services that are located in 14 Eyes countries below.
To recap, this list includes VPNs that are located in:
Five Eyes (United States, United Kingdom, Australia, Canada, and New Zealand)
Nine Eyes (Five Eyes + Denmark, France, Netherlands, and Norway)
Fourteen Eyes (Nine Eyes + Germany, Belgium, Italy, Sweden, and Spain)
Additional partners (Israel, Singapore, South Korea, and Japan)
AceVPN (USA)
ActiVPN (France)
AirVPN (Italy)
AnonVPN (USA)
Anonymizer (USA)
Avira Phantom VPN (Germany)
AzireVPN (Sweden)
BeeVPN (Denmark)
Betternet (Canada)
Blockless (Canada)
BTGuard (USA)
Celo (Australia)
ChillGlobal (Germany)
Cloak (USA)
CrypticVPN (USA)
CryptoHippie (USA)
DefenceVPN (Barbados)
Disconnect.me (USA)
FlowVPN (UK)
FlyVPN (USA)
FoxyProxy (USA)
FrootVPN (Sweden)
FrostVPN (USA)
GetFlix (Canada)
GhostPath (USA)
GooseVPN (Netherlands)
GoTrusted (USA)
GoVPN (Germany)
Hide My IP (USA)
HideIPVPN (USA)
HideMyAss (UK)
Hotspot Shield (USA)
IncognitoVPN (USA)
Integrity.st (Sweden)
Internetz.me (Germany)
IntroVPN (USA)
IPinator (USA)
IPredator (Sweden)
IPVanish (USA)
LibertyShield (UK)
LibertyVPN (USA)
LiquidVPN (USA)
Mullvad (Sweden)
My Expat Network (UK)
MyIP.io (USA)
MyVPN.Pro (USA)
Netshade (USA)
Newshosting (USA)
NolimitVPN (Singapore)
Norton WiFi Privacy (USA)
OctaneVPN (USA)
Opera Browser VPN* (Norway) [Note: "Opera VPN" is not actually a VPN, but instead a proxy.]
OverPlay (UK)
OVPN.com( Sweden)
Private Internet Access (USA)
PrivateTunnel (USA)
PrivateVPN (Sweden)
ProXPN (Netherlands)
PRQ (Sweden)
RA4W VPN (USA)
RogueVPN (Canada)
RootVPN (Netherlands)
SaferVPN (Israel)
ShadeYou (Netherlands)
SlickVPN (USA)
Speedify (USA)
Spotflux (USA)
Steganos (Germany)
StrongVPN (USA)
SunVPN (USA)
SuperVPN (USA)
SurfEasy (Canada)
TGVPN (UK)
Torguard (USA)
TorVPN (UK)
TotalVPN (UK)
Traceless.me (Germany)
TunnelBear (Canada)
Tunnelr (USA)
TVWhenAway (UK)
Unblock-Us (Barbados)
Unlocator (Denmark)
UnoTelly (Canada)
Unseen Online (USA)
Unspyable (USA)
VikingVPN (USA)
VPN Gate (Japan)
VPN Land (Canada)
VPN Master (USA)
VPN Unlimited (USA)
VPN.sh (UK)
VPN4All (Netherlands)
VPNAUS (Australia)
VPNJack (USA)
VPNMe (USA)
VPNSecure (Australia)
VPNShazam (Israel)
VPNUK (UK)
WASEL Pro (Netherlands)
WifiMask (Netherlands)
Windscribe (Canada)
WiTopia (USA)
WorldVPN (UK)
Zenmate (Germany)
ZoogVPN (UK)
Recommended VPNs that are outside of 14 Eyes countries
Many Restore Privacy visitors are looking for a VPN that is based in a good privacy jurisdiction. This is a wise consideration since there have been different cases of technology companies that were forced to log customer data and hand this over to government agencies. The PRISM program details shocking evidence of US technology companies giving government agencies, such as the NSA, direct access to user data.
There are also US VPNs that have provided data to US authorities, even while promising to be "no logs" to their customers. One example of this is with IPVanish, which logged user data and provided it to the FBI for criminal prosecution.
Based on personally using, researching, and testing numerous VPNs over the past four years, here are my current top recommendations from the best VPN service report:
ExpressVPN (based in the British Virgin Islands, a politically and legally autonomous country that does not fall under UK jurisdiction)
Perfect Privacy (based in Switzerland)
NordVPN (based in Panama)
VPN.ac (based in Romania)
Does jurisdiction even matter?
In the end, jurisdiction is just one of many factors to consider when selecting the best privacy tools for your unique situation. How much it matters to you depends on many factors, particularly your threat model and the types of adversaries you are looking to protect yourself from.
For those seeking higher levels of privacy and security, jurisdiction is indeed an important consideration, especially when you consider the growing power of governments to force companies to hand over data and log users.
Trust is also a major factor you should consider. After all, a VPN can operate in a good "overseas" jurisdiction, yet still lie to customers and provide data to government agencies.
Take for example PureVPN, a provider based in Hong Kong that gave US authorities connection logs for a criminal case. But PureVPN has a poor record and has been involved in numerous scandals over the years, so this case is certainly not the norm.
Good luck and stay safe!